About Pemberton BC Canada
Pemberton BC Canada - Your Gateway to Adventure!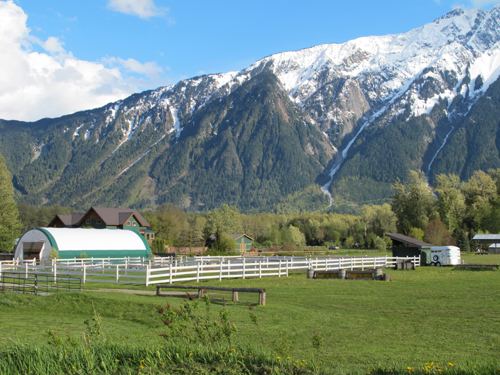 Mt Currie stands above the Pemberton Valley
A Brief History of Pemberton Valley
Farming has been a mainstay of the Pemberton Valley since Europeans first settled here more than 100 years ago. Today, the fertile valley, located just 30 minutes north of Whistler, is known for its seed potatoes, for which it is a major supplier to British Columbia, Alberta, Idaho, Washington, Oregon and California.

Yet, farming and outdoor recreation are relatively new to the Valley's history. Before European settlers came to the area, Native peoples from the Interior Salish tribe were the first to call this area their home. The band settled at the foot of majestic Mount Currie and the head of Lillooet Lake where Mt. Currie village exists today.
Just North of Whistler Resort
The Village of Pemberton (population 2,339 as of 2008) is a spectacular 20-minute drive north of Whistler Resort, accessible directly off Highway 99. The Village, located at the foot of majestic Mt Currie, is the hub for the Pemberton Valley and district. The district includes the Village, the first nations community of Mt. Currie, plus the Pemberton Valley, D'Arcy and Birken.
Discover Pemberton and District
The area was developed at the turn of the century as a result of forestry and agriculture. The Pemberton Valley lies northwest of the Village and is famous for its seed potatoes. Pemberton and district offers world-class activities and recreation including snowmobiling, mountain biking, horseback riding, skiing, golfing, hiking, rafting, jet boating and gliding. The district also provides a variety of shopping, dining, accommodations, and a thriving service and light industrial sector.

The Pemberton district abounds with natural beauty surrounded by three of the most beautiful Provincial Parks in BC. There is ample opportunity for camping at Birkenhead Lake, Garibaldi, Joffre Lakes and Nairn Falls parks.
As the fastest growing community in BC (BC Statistics, 2005) the Village has seen many changes in a short period of time.  Agriculture and forestry are still important aspects of local economy, but tourism and its related services employ the highest percentages of residents: accommodation and food services at 24.3%, followed by arts, entertainment and recreation at 13.3%, and retail trade, also representing 13.3% of the total labour force (2001 Census).  Comparatively, forestry and logging employs 1.8% of Village residents.  The Village of Pemberton encompasses an area of approximately six (6) square kilometers.

Pemberton is easy to reach by road and air. Highway 99 is a well maintained major provincial highway. The Village's airport provides access for fixed wing and helicopter traffic.
Whistler Blackcomb Mountains Beckon

The winter sports season runs from November through May, due to an average annual snowfall of 30 feet and extensive snowmaking systems. Whistler has more than 200 marked trails, 12 massive alpine bowls, including three glaciers and the greatest vertical rise ski mountains in North America.

 
Sensational Whistler & Pemberton Summers

The pedestrian friendly Village is alive all summer long with entertainment, shops, and outdoor cafés. Four championship golf courses, mountain biking, tennis, heli-skiing, horseback riding, fishing, and summer skiing make Whistler Resort a fantastic destination whether you are becoming a full-time resident or wish to become a resort home owner.