Whistler Real Estate Information
When considering a Whistler real estate purchase you will find a review of the locales helpful. Different neighbours and areas in Whistler offer different types of accommodation choices and features. Whistler's housing varies from chalets to townhomes and condominiums or flats. From the family environment of Tapley's Farm and the commercial / industrial centre of Function Junction to the mountain top chalets of Brio, view a list of Whistler real estate choices below to help select areas that you may interested in. There are also links to a Whistler real estate map.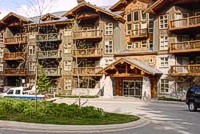 Whistler Real Estate Locales / Neighbourhoods
Listed from most northerly to most southerly location including homes, properties and flats for sale in Whistler.
EMERALD ESTATES
Price Range: $650,000 to $2 million
Notes: Family neighbourhood, quiet, out-of-the-way, furthest north of the Whistler locales
ALPINE MEADOWS
Price Range: $750,000 to $4 million
Notes: Family neighbourhood, re-development
Services: Small market & deli, Whistler Secondary School
NICKLAUS NORTH
Price Range: $1 million to $7 million
Notes: Family neighbourhood & high-end recreational properties
Services: Small market & deli, Whistler Secondary School, Nicklaus North Golf Course
SPRUCE GROVE
Price Range: $700,000 to $1.5 million
Notes: Family neighbourhood,
Services: Close to small shopping centre including grocery store
WHITE GOLD
Price Range: $850,000 to $3.4 million
Notes: Older neighbourhood, good for re-development because of proximity to skiing & Village
TAPLEY'S FARM
Price Range: $850,000 to $1.9 million
Notes: Neighbourhood with young families, re-development
Services: Myrtle Philip Elementary School, Day care
WHISTLER CAY
Price Range: $900,000 to $15 million
Notes: Smaller detached & townhomes, older construction and new homes
VILLAGE NORTH
Price Range: $325,000 for 1 bedroom condo to $1.5 million for a 3 bedroom townhome
Notes: mostly townhomes, little quieter than Village
Services: Walk to shops
BLACKCOMB BENCHLANDS
Price Range: $350,000 for 1 bedroom townhome to 3.7 million for 5 bedroom chalet
Notes: Nightly rental properties, quieter as out-of-town, some ski-in / ski-out access
WHISTLER VILLAGE
Price Range: $400,000 for 1 bedroom condo / flats to $2 million for a 4 bedroom townhome
Notes: High density, smaller range of properties available
Services: Walk to lifts, shops & dining in the heart of Whistler
BLUEBERRY HILL
Price Range: $600,000 to $5 million
Notes: townhomes & chalets to high-end chalets
BRIO
Price Range: $975,000 to $2 million in 'older Brio', $3 million to $15 million for mountain-top chalets in Sunridge Plateau
Notes: new Brio includes Sunridge Plateau
ALTA VISTA
Price Range: $350,000 - $800,000 for townhomes, $1 million to $6 million for chalet
Notes: for Alta Vista lake views, mixture of old & new, prime re-development area
NORDIC ESTATES (upper Nordic a.k.a. Taluswood)
Price Range: $300,000 to $1 million for lower Nordic's townhomes & chalets to $1 million to $2 million for upper Nordic's 5 phases of modern townhome development
Notes: Some ski-in/ski-out access
WHISTLER CREEK (a.k.a. Creekside)
Price Range: up to $2 million
Notes: Mix of older chalets & duplexes, wide range of prices including Whistler Creekside, modern nightly rental condos
BEAR CREEK
Price Range: Up to $3 million
Notes: Mostly single family
KADENWOOD
Up to $8 million
Ski in/ski out single family homes
BAYSHORES
Price Range: $600,000 to $2.4 million
Notes: Single family residential, some townhomes
MILLAR'S POND
Price Range: $975,000 to $1.9 million
Notes: Modern single family development
SPRING CREEK
Price Range: $600,000 for condos / flats & townhomes to $3 million for a mix of single family homes
Notes: New construction
Services: Spring Creek elementary school
FUNCTION JUNCTION
Price Range: Varies
Notes: Commercial, office, warehouse & retail
Services: Food services